ropaNAIL the 100% natural solution for your fungal nails.
More and more people discover that a natural way to tackle fungal nails really works! Our secret is our own oregano oil. Through years of experience we gain the maximum active ingredients from our own selected oregano plants. We extract the oil from these plants and this highly concentrated oil is the base of all our ropaNAIL products.
Treatment
Start using ropaNAIL immediately when noticing the first signs of a fungal nail. It is important to treat the fungal nail daily. Even when the fungal nail is gone, we advise you to continue using ropaNAIL for at least 2 weeks.
INSTRUCTIONS: Apply on the surface and under the nail twice a day. Spread as far as the cuticle. Leave it on for 15 minutes. Wash your hands after use. It takes perseverance and patience to let a contaminated nail grow back completely healthy. We advice consistent use of ropaNAIL and lots of patience!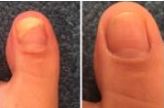 TIPS: ropaNAIL is a highly concentrated and powerful oil. If your skin reacts to the oil, we advise you to avoid the skin around the nail as much as possible. You can protect your skin with Vaseline if necessary. You can prevent an allergic reaction by testing ropaNAIL elsewhere on your skin.
Ingredients ropaNAIL
ropaNAIL consists exclusively of 100% natural ingredients: olive oil, oregano oil, calendula, propolis and Vitamin E.
Are you a nail therapist? Sign up for a business account here: pedicure business account. We will check your details and after approval you will be able to see our business prices. Click here!
| Pukkie
16-04-2019 11:39
Fijn product ruikt lekker kruidig heb het gevoel dat het werkt!
| Miriam
25-03-2019 14:57
14/01/2019
Ik gebruik het nu een half jaar en mijn nagel is bijna schoon uitgegroeid. Ik blijf het in de toekomst dagelijks gebruiken als onderhoud.
Ben super blij met het resultaat en het is ook nog eens betaalbaar.
| Kees Tempelaar
25-03-2019 14:56
18/11/2018
Wat een heerlijk product! Het wekt echt!
Na jaren tobben met andere producten zat ik nog steeds met kalknagels, moeilijk vol te houden omdat het bewerkelijk was.
Maar nu heb ik RooaNail ontdekt. Wat een verbetering! Na een paar weken al zichtbaar resultaat en makkelijk vol te houden. Gewoon 2x per dag aanbrengen zonder eerst schoon te maken mes remover! Ik heb een 2e flesje besteld omdat de teennagels langzaam groeien en ik zie dat de nieuwe nagel er weer normaal uit ziet.
Ik durf weet op blote voeten te lopen.
| Meera
25-03-2019 14:55
05/11/2018
prima product, moet nog even kijken of het echt werkt, maar het lijkt er wel op
| Mariëtte Housmans- Hendrikx
25-03-2019 14:54
13/09/2018
Ik ben heel dik tevreden, had al van alles geprobeerd maar niets hielp echt, en ik blijf het gebruiken
| Linda
25-03-2019 14:52
31/07/2018
Na twee weken al resultaat.! Heel tevreden!
| Joke Kerstens
25-03-2019 14:50
30/07/2018
Ben met ropanail gestart rond 2 maanden geleden. Het spreekt me aan dat plantenmateriaal gebruikt wordt in dit product. Mannelijke klant van 35 is sinds 6 weken ermee bezig en ziet nu al een mooie gezonde uitgroei van de nagels. Jippie
| Kristien
25-03-2019 14:49
23/05/2018
Wat een verademing. Met andere producten steeds bijwerkingen, met deze niet! Simpel in gebruik en het ruikt ook nog eens lekker kruidig.
| Patricia van Wanrooij
25-03-2019 14:47
08/05/2018
Wordt blij van Ropanail! Een product wat echt resultaat geeft en de klanten zien ook het resultaat. Bruine verkleuring wordt snel lichter van kleur, brokkelige nagels die glad uitgroeien. Super gewoon! En niet onbelangrijk is de prijs ook acceptabel.
| Sona Awakian
21-02-2019 12:15
26/04/2018
Tijdens mijn werk als medisch pedicure heb ik met verschillende anti schimmel producten gewerkt. Nog nooit zulke goede resultaten geboekt als met Ropanail. Mijn klanten zijn ook heel tevreden over de behandeling met dit product in combinatie met de rest van de behandeling en adviezen. Ik ga zeker door met het gebruiken van dit product en zou Ropanail iedereen aanraden.
4.9
stars based on
10
reviews